All News

Latest News

Products
White Horse Ceramic sponsors the girls' volleyball team of Yingge Vocational High School for three consecutive years to show support for sports events.
To thank White Horse Ceramic for sponsoring the competition gear of the girls' volleyball team of Yingge Vocational High School to ensure that they can do their best in games, Principal Ling-wen Kong expresses the warmest wishes from all team members for the Lunar New Year holiday.
White Horse Ceramic Received Taiwan Excellence Awards for Nine Consecutive Years.
White Horse Ceramic is pleased to announce that the company received Taiwan Excellence Award for nine consecutive year. The Taiwan Excellence Awards select benchmarking products in different industries through a jury formed by domestic and overseas professionals in terms of five aspects: product development, design, quality, marketing, and made-in-Taiwan, and Taiwan Excellence represents the glory of national recognition.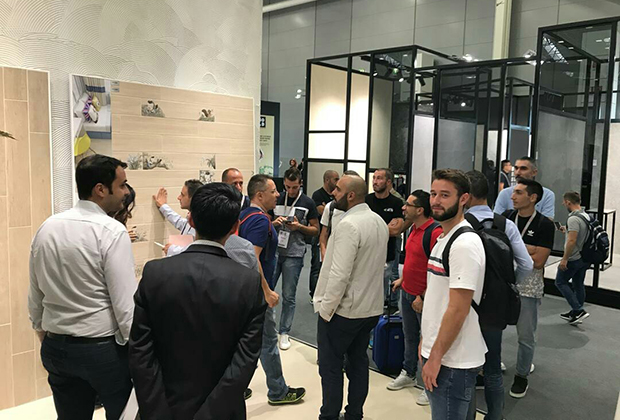 White Horse Ceramic Stuns Cersaie Bologna Fair.
Asia's leading ceramic tile brand -White Horse Ceramic participated the Cersaie Bologna Fair 2018, an international exhibition of porcelain tile and bathroom furnishings, held from September 24 to 28, 2018 is an indicative international event for the ceramic industry. The company's two latest product series, the Happy Forest and the Qing Hua Ci, were the most attractive glory from Taiwan at the fair.
Devanno's Imported Products Attained CNS Mark!
White Horse Ceramic is pleased to announce that all categories of tile products imported by its subsidiary Devanno Tile from White Horse Ceramic Industries Sdn. Bhd. of Malaysia passed the inspections of the Bureau of Standards, Metrology & Inspection (BSMI), Ministry of Economic Affairs (Taiwan), making White Horse Ceramic Malaysia so far the world's first and only tile maker to acquire the CNS Mark for all tile products.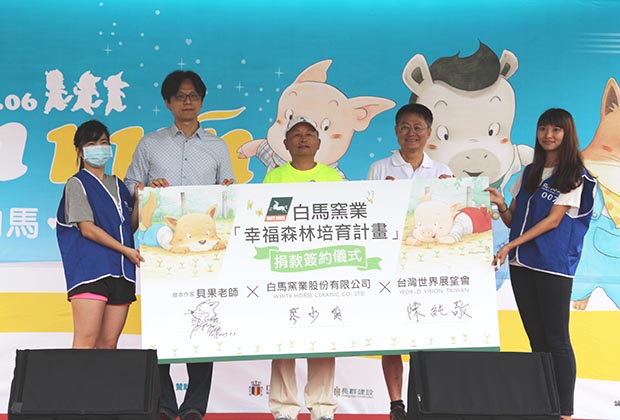 For A Safe Road to Education with World Vision!
White Horse Ceramic launched partnership with World Vision to support education for underprivileged children. Aiming to bring customers a beautiful living space, "beautiful life" has always been the product focus of White Horse with its seven decades of history. While celebrating its 70th anniversary, the company teamed up with celebrated picture book author Bagel Chien to plant the seeds of beauty in every household for growing the "happy forest" by integrating White Horse's "beautiful life" concept.
White Horse Ceramic Supports Kaohsiung Relief.
White Horse Ceramic is offering every assistance to Kaohsiung relief following the gas explosions on 31 July 2014 in which ruined Lingya and Cianjhen districts and caused huge losses and casualties to local residents. White Horse Ceramic felt the pain of victims and showed our deepest sympathies. As a local enterprise, White Horse Ceramic took the lead to donate one million New Taiwan Dollars for disaster relief, hoping to help the residents settle down and rebuilt their homes as quickly as possible. Apart from doing its part for disaster relief, the company hopes that all Taiwan citizens show their compassion and help Kaohsiung rise again.
Making Earth Better with Green Building Materials.
Asia's leading ceramic tile brand – White Horse Ceramic attained Green Building Material certification, which reflects the government recognized the company's efforts for environmental protection. While issues relating to environmental protection, White Horse is committed to energy conservation and technology innovation. In addition to the Green Mark, White Horse was certified for the Recycling Green Building Material mark and nanoMark.
White Horse Ceramic Promotes Environmental Sustainability with TDoEP and Zhongli Elementary School
Upholding environmental protection and green life, Asia's leading ceramic tile brand - White Horse Ceramic built the first "Environmental Education Experiential Hall" Green House in Taoyuan County in collaboration with the Taoyuan Department of Environmental Protection (TDoEP) and Zhongli Elementary School. The event is to publicize the practice of environmental protection and application of green energy products in daily life. The company also combines the Green House with the education environment of elementary and senior high schools to engrain environmental education. Furthermore, the facility enables Taoyuan citizens to experience a green life in a sustainable environment. By doing so, White Horse aims to achieve the goals of environmental protection, environmental education, and environmental exposure.